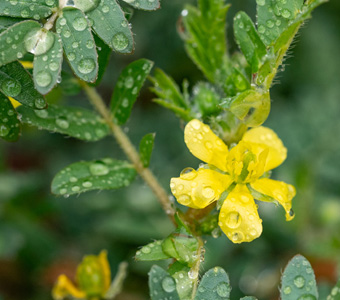 Tribulus Terrestris 500 mg
Tribulus terrestris, a common, but little-known plant
Our dietary supplement is made from Tribulus terrestris, sometimes called Maltese Cross, which is a member of the Zygophyllaceae family. Often overlooked, this perennial plant is recognised by its long, creeping stems. It is said to originate from India but has in fact been cultivated in other parts of the globe for thousands of years. It grows primarily in hot, dry climates such as certain parts of China and several countries of Saharan Africa, but is also found in Europe in the Mediterranean rim, as well as in Western Asia.
Tribulus terrestris, a traditional medicinal plant
Tribulus terrestris has been used therapeutically for thousands of years. Its medicinal use dates back to antiquity when it featured in Ayurvedic medicine. In India, its aphrodisiac and fortifying properties meant it was widely used as a natural remedy for treating erectile problems and infertility. It was also proposed as a treatment for urinary problems. Its use then extended throughout Asia where, for example, Chinese medicine recommended it as a treatment for cardiovascular problems.
Its effects on erectile problems and in stimulating libido
It was not until the 19th century that scientists began to show fresh interest in the benefits of Tribulus terrestris for stimulating libido and treating erectile problems. As reported in the journal Nutranews, clinical research at this time concluded that Tribulus terrestris could positively affect male and female sex drive, quality of erections, spermatogenesis and ovulation. This led to its current widespread use as a natural treatment for erectile problems.
Benefits for sports performance
Alongside its positive effects on libido and erectile problems, tribulus terrestris may also offer benefits for sportspeople. In fact, according to some scientists, it may have an effect on steroid hormones such as testosterone; indeed taking a Tribulus terrestris extract could increase testosterone by 30%, helping to improve not only sexual performance but also sports performance. In addition, some sports enthusiasts use the plant for increasing their stamina as well as for gaining muscle mass in bodybuilding.
A natural remedy for erectile problems
Used for thousands of years, this natural remedy for erectile problems is now available as a dietary supplement, in the form of vegetarian capsules. Each capsule contains 500mg of Tribulus terrestris extract, standardised to 40% saponins, the plant's active ingredient. The suggested dose for this supplement is two to three capsules a day, to be taken with meals, though this dose can be adjusted in line with your therapist's advice.
Composition
Daily serving: 3 capsules
Number of servings per bottle: 30
Quantity per serving
Saponins (1,500 mg extract of Tribulus terrestris, standardised in 40% saponins)
600 mg
Other ingredients: Acacia gum, rice bran.
Each capsule contains 500 mg of standardized extract (40% saponins) of Tribulus terrestris.
Directions for use
Take 2 to 3 capsules per day (during meals) according to your needs or on the advice of your therapist.