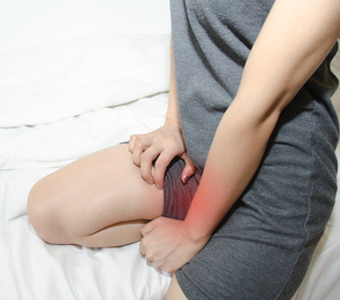 Vaginal Health
• 5 billion micro-organisms per capsule
• Helps maintain and restore the balance of vaginal flora

A mix of micro-organisms to fight vaginal infection
The product 'Vaginal Health' is a dietary supplement with a prebiotic and probiotic formulation designed to improve vaginal health and comfort. Probiotics are live micro-organisms that act primarily at the level of vaginal flora in preventing attacks of vaginitis – inflammation of the vagina. When added to foods and in dietary supplement form, these micro-organisms can have a beneficial effect on the body when ingested in sufficient quantities.
Probiotics benefit vaginal flora balance
In some cases of vaginal infection, there can be disruption to the delicate balance of vaginal flora. In order to restore this balance, scientists have identified the probiotic strains naturally present within vaginal flora which include, in particular, Lactobacillus GG, Lactobacillus rhamnosus, Lactobacillus reuteri, Lactobacillus plantarum and Lactobacillus salivarius. To improve vaginal health and comfort and prevent infection, 'Vaginal Health' thus contains some of these scientifically-identified strains – Lactobacillus rhamnosus, Lactobacillus salivarius, as well as Bifidobacterium lactis, Lactobacillus acidophilus, Lactobacillus casei and fructo-oligosaccharide. The latter ensures these various micro-organism strains are nourished, healthy and able to reproduce.
Balance of vaginal flora essential
Vaginal flora has a sensitive ecosystem which can be affected by various external factors. Its normal pH is around 4.2 but can increase with the use of antibiotics, steroids, the contraceptive pill or spermicides. Vaginal flora balance can also be disturbed by infections which slow down the immune system and weaken the body's defences. Changes to the pH of vaginal flora increase the risk of vaginal infections and these can sometimes develop into urinary infections. Supplementing with probiotics can prove an effective solution in preventing such problems. Indeed, these micro-organisms will help maintain or restore a healthy balance in vaginal flora. Alongside these probiotics, there are other measures that can help minimise the risks of such vaginal problems, such as eating probiotic-fortified yogurt, using vaginal lubricants before or just after sex to maintain vaginal pH, as well as avoiding self-medication for a latent infection.
'Vaginal Health', a formulation for maximum absorption
The dietary supplement 'Vaginal Health' has been specially formulated for maximum efficacy. Its delivery in DRCaps™ offers maximum absorption and provides 5 billion 'friendly' micro-organisms per capsule. At the recommended adult dose of two capsules a day, you will actually benefit from twice this amount of micro-organisms. 'Vaginal Health' can be used as a treatment for two to six months, and in some cases longer, provided the dose is reduced. If in doubt, you are advised to consult a health professional.
Composition
Daily dose: 2 capsules
Number of doses per pack: 30

Quantité
par dose

Lactobacillus rhamnosus
2.109 CFU
Bifidobacterium lactis
2.109 CFU
Lactobacillus salivarius
2.109 CFU
Lactobacillus acidophilus
2.109 CFU
Lactobacillus caseï
2.109 CFU
Fructo-oligosaccharide
200 mg
Other ingredients : Acacia gum, rice bran.
Directions for use
adults. Take 2 capsules a day.
Keep refrigerated.