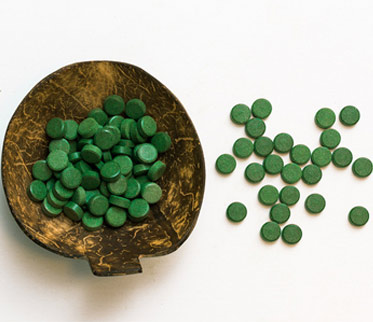 Chlorella 200 mg
Chlorella is a single-celled, fresh water, green algae. It has the highest chlorophyll concentration of any known plant, and consists of 60% protein including all the essential amino acids. Yaeyama, a sub-species of Chlorella vulgaris, contains chlorella growth factor which is rich in nucleic acids (DNA and RNA) and peptides.
What benefits are associated with Chlorella?
Chlorella is one of the most scientifically-researched foods. In particular, it is used:
To detoxify the body by eliminating heavy metals and toxic chemicals;
To improve intestinal function as a result of its high chlorophyll content;
To stimulate macrophage and T lymphocyte activity, increasing interferon levels and boosting the immune system's ability to combat viruses, bacteria, foreign proteins or chemicals;
Interferon is one of the body's main natural defences against cancer. By increasing interferon levels, chlorella boosts the body's resistance to cancer;
As an alkaline, to balance the body's pH;
To control blood sugar levels and blood pressure.
Composition
Daily serving: 20 capsules
Number of servings per bottle: 25
Quantity per serving
Yaeyama Chlorella extract providing :

Vitamin B2
Vitamine B9
Vitamin B12
Iron

4 000 mg

Each tablet contains 200 mg of Yaeyama Chlorella.
Directions for use
Take ten tablets twice day.