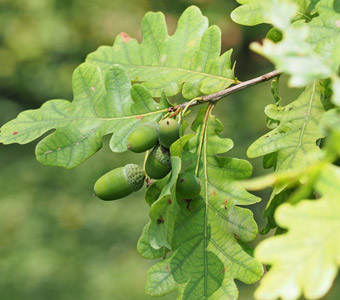 Robuvit Supplement
The oak has historically been the most prized of all the trees. Robuvit®, obtained from French oak wood (Quercus robur) through a water extraction process, contains a number of flavonoid compounds: gallic acid, ellagic acid, castalagin, vescalagin and in particular, roburins (A, B, C, D, E) which account for the unique and multi-beneficial properties of this particular wood.
Why take Robuvit®?
Chronic fatigue is a multi-faceted condition which can affect anyone at any stage of life, regardless of age, sex or socio-economic status. Symptoms range from poor quality sleep to lack of energy, exhaustion, muscle fatigue and various other problems for which there are as yet no treatment standards.
Apart from supplementing with vitamins and mineral combinations, particularly magnesium and some amino acids, medicinal substances are often used to remedy the symptoms of chronic fatigue but they can have side-effects and do not provide a real solution to the problem.
According to data recorded by 89 GPs on 1,428 consultations, prevalence of fatigue is 25%. Fatigue is an important symptom because of its association with physical, psychological and social problems. Prevalence of chronic fatigue syndrome (CFS) is estimated to be 3.28%. It occurs more frequently between the ages of 40 and 59 and is four times more common in women than in men. Symptoms include:
Poor memory and concentration;
Sore throat;
Swollen lymph glands in the neck and armpits;
Unexplained muscle pain;
Pain which moves from one joint to another, without swelling or redness;
Headache;
Unrefreshing sleep;
Extreme exhaustion for more than 24 hours following physical or mental activity.
Secondary symptoms include hypersensitivity to noise, abdominal pain, gastro-intestinal discomfort, weight loss, dizziness and mood swings. Robuvit®, an oak wood extract standardised in roburins, offers genuine hope for the millions of people suffering from CFS. Possible mechanisms of action include functional changes in ribosomes, the small molecular entities located within cells which produce new proteins in the body.
Changes in ribosomal function have been observed in individuals infected with the Epstein-Barr virus, which is strongly associated with CFS. Support for ribosomal biogenesis and function may thus prove to be a completely new approach to managing CFS. Even for those without CFS, Robuvit® can be considered a new-wave supplement for maintaining cellular protein synthesis.
What do studies say about Robuvit®?
In a clinical study of 80 CFS sufferers, 38 were given Robuvit® for six months, with the remaining 42 serving as controls. Participants were evaluated using the Multidimensional Assessment of Fatigue (MAF) questionnaire developed by the University of Washington. Results clearly showed improvements in fatigue and oxidative stress in those taking Robuvit®.
A human study involving 91 subjects, published in the journal Panminerva Medica in March 2014, had previously identified all Robuvit® properties. In this six-month study, 48 subjects were given 200mg of Robuvit a day, with 43 serving as controls.
Specific CFS questionnaires, as well as the Brief Mood Introspection Scale (BMIS), were used to assess mood variations in CFS patients. Participants had to have at least five CFS symptoms to be included in the study. Researchers also measured oxidative stress and found increased levels in 61 of the 91 subjects. Assessment was repeated at 3 and 6 months. The study showed that taking Robuvit® produced reductions in primary CFS symptoms of:
18 % in weakness and exhaustion;
44 % in sleep problems;
29 % in short-term memory loss;
62 % in muscle pain;
51 % in joint pain;
33 % in headaches and neuralgia;
47 % in swollen glands in the neck and armpits.
Notable decreases in secondary symptoms were also observed, particularly in hypersensitivity (to noise, diet, drugs), dizziness, depression, weight changes, mood swings and allergies. Allergies and hypersensitivity as CFS symptoms were recently investigated in a human study involving 30 female volunteers - 14 in a control group and 16 in a test group – in which the effects of Robuvit® supplementation on cutaneous reactions (redness and swelling) were evaluated. The supplemented volunteers were given 300mg of Robuvit® a day for three days plus an intracutaneous injection of histamine. At the end of the three days, researchers observed a significant reduction in the histamine-induced swelling and redness in the test group, indicating an anti-histamine effect for Robuvit®.
Robuvit® also has significant antioxidant activity and acts at a sub-clinical, cellular level, distinguishing it from other products which simply tackle symptoms. Its antioxidant properties were highlighted in a pilot study which evaluated markers of oxidative stress, antioxidant enzyme activity (SOD, catalase, glutathione peroxidase) and total antioxidant capacity in plasma. Scientists found that a daily dose of 300mg for one month significantly reduced serum levels of Advanced Oxidation Protein Products (AOPP) and lipid peroxides, and noticeably increased total antioxidant capacity in plasma. In a 12-week, placebo-controlled study of 61 patients (32 receiving Robuvit® and 29 controls), a 200mg daily dose of Robuvit (or 300mg/day for those weighing over 80 kilos) normalised levels of ASAT, ALAT, alkaline phosphatase and gamma GT, and reduced plasma oxidative stress.
A small, eight-week pilot study has just been published which suggests that a 300-600mg daily dose of Robuvit® may reduce lymphoedema in legs and improve microcirculation and tissue oxygenation. In brief, supplementing with Robuvit®:
Reduces general fatigue at a cellular level;
Maintains smooth functioning of energy metabolism;
Ensures increased ribosome production and thus structural protein formation;
Boosts antioxidant capacity in plasma;
Decreases fasting blood glucose from 97.6mg/dL to 87.5mg/dL in four weeks;
Lowers levels of homocysteine in the blood (a marker of cardiovascular risk) from 10.4 µmol/liter to 8.7 µmol/liter;
Reduces symptoms of fatigue states, making them more manageable;
Contributes to a better quality of life given that fatigue states are often associated with aging, including premature aging.
Other promising but as yet unpublished research has also highlighted its ability to:
Regulate circulation in the feet of diabetics suffering from microangiopathy;
Improve sperm quality, a four-week daily dose of 300mg having been shown to reduce free radical generation, increase semen volume and numbers of spermatozoa;
Support endurance athletes, with research suggesting that 300mg/day taken for two weeks while training may significantly lower the time it takes to complete a marathon or triathlon, and at the same time reduce free radical levels in blood one hour post-exercise and protect blood cells from haemolysis.
Oral toxicity studies show that taking Robuvit® is completely safe and is compatible with all other nutritional supplementation. No side-effects have been observed in clinical studies. The average dose is one 100mg Robuvit® vegetarian capsule, once or twice a day. In cases of long-standing chronic fatigue, usually associated with oxidative stress, treatment should be continued for three to six months.