FREE delivery on orders over $25
Detoxification Supplements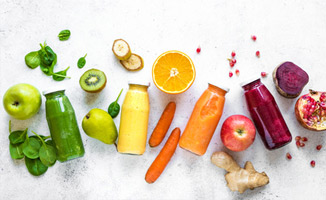 Eliminating toxins that have accumulated in the body, regaining strength and energy, shedding a few unwanted kilos, improving sleep quality and recovering better … these are just a few of the benefits detoxification can bring. How? By fully restoring the body's own powers, helping it to eliminate the toxins that inexorably infiltrate our organs, lymphatic system, digestive tract etc - because toxins that emanate from diet, lifestyle or the environment are recognised as having a damaging effect on health and well-being. What's more, detoxing also slows down by combatting free radicals.

Diet lies at the heart of good health, but even the healthiest, most balanced diet cannot fulfill every role, nor combat environmental toxins. So it's a good idea to take advantage of specific detox dietary supplements such as those offered here. You'll benefit from nutrients carefully selected for their high quality, their composition – formulated to obtain the best synergy between active substances, and their targeted action (alcohol toxicity for example) or more holistic action which adapts to each individual's needs.
The scientific principle behind detoxification supplements
It's a victim of its own success: for some time now, the popular concept of 'detoxing' has been regularly disparaged by certain members of the scientific community. Even if the concept has been hijacked as a marketing tool (mono diets or juicing, for example), the fact remains that detoxification is a cellular task recognised as vital for the human body. As is the case with other of the body's defense systems, detoxification can be optimised. A wide variety of micro- and macro-nutrients are needed to ensure that exogenous and endogenous toxins are processed and eliminated from the body.
Find different types of detox dietary supplements at Supersmart
Proteins, phytonutrients, antioxidants (carotenes, lycopene, lutein, tocopherols, polyphenols, curcumin …) and minerals (selenium, copper, zinc, manganese) are essential for the two, clearly identified phases of detoxification. So it's not difficult to see how deficiency in these essential elements could significantly impair that process. Of course, ensuring intake of these nutrients should go hand in hand with avoiding foods that may harbour toxins.
These include products that contain petrochemical residues as a result of certain agricultural practices, or polycyclic aromatic hydrocarbons from grilled meat.
At Supersmart you can find a variety of body detoxification supplements in our inventory, along with plenty of other types of supplementation.
© 1997-2023 Fondation pour le Libre Choix. All rights reserved
© 1997-2023 Fondation pour le Libre Choix. All rights reserved

x


ok