Black Week !
10% off on the whole website with code
BLKDAY23
FREE delivery on orders over $25
Stress Relief & Sleep Aids Supplements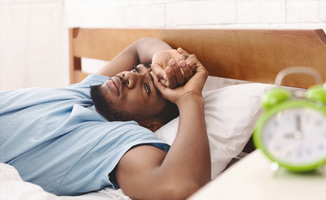 Are you looking for the best possible natural product to help you sleep better? Had enough of so-called remedies that simply don't work ? Well you've come to the right place ! Supersmart offers a choice of the very best supplements for improving sleep quality, and reducing the time it takes to fall asleep.
All our sleep supplements share a common objective: to help you get to sleep faster and reduce feelings of tiredness when you wake. To do that, they employ a wide variety of mechanisms: they combat stress, increase the concentration of certain neurotransmitters involved in sleep (serotonin, melatonin and gamma aminobutyric acid), and relax the nervous system …
Two products have proved highly successful for treating insomnia and quickly restoring regular sleep patterns: Melatonin 1 mg and its spray version for even faster results. Natural Sleep FormulaL-Tryptophan 500 mg, a sleep-inducing amino acid, are the two other 'go-to' supplements in this category.
Stress Relief Supplements
Countless people turn to pharmaceutical stress relievers but could achieve a healthier result with one of our stress relief supplements. These anti-stress food supplements are beneficial for several body systems and provide support rather than creating a numbing effect.
If you are one of the countless people who struggles with getting enough sleep, goes through the day feeling overwhelmed by the pressures of work and family, and want a natural solution, at Supersmart, we offer an array of formulas to improve your health and quality of life. Rather than taking a drug, these formulas give your body the nutrients it is missing.
Some of the most effective nutrients for healthful sleep and reduced stress include:
Magnesium
Vitamin B1
Melatonin
GABA
Vitamin B6
Plant extracts: passiflora, Schisandra, jujube, polygala, and magnolia.
What Sleep Supplement Works Best?
Every person is different in the symptoms they are experiencing; some may be unable to sleep due to ongoing pain and may require a sleep supplement with pain relieving properties. Others may have trouble falling asleep, while others awaken frequently. We offer various formulas for stress relief and sleep support, so read over what each formula addresses to discover the supplement that will work best for you.
What Anti-Anxiety Supplement is Most Effective?
Feelings of anxiety are often a symptom that can be treated with a nutritive formula. For example, our Peptidea formula is made from a fish protein hydrolysate, containing peptides and 18 amino acids. When the body responds to stress, danger, or extreme emotion, it reacts by releasing adrenalin, so the body is prepared to act quickly to avoid harm. The release of adrenalin then triggers a cascade of other symptoms. The support provided by this formula, when taken consistently, can help you lead a calmer, happier, healthier life.
© 1997-2023 Fondation pour le Libre Choix. All rights reserved
© 1997-2023 Fondation pour le Libre Choix. All rights reserved

x


ok