Who is champion Justine Gayraud ?
Justine Gayraud is a 29 year-old professional French athlete.
Having competed in judo at a high level, she then decided to concentrate full-time on body-building, quickly winning the coveted title Miss Universe Sportmodel in 2015.
Her nutritional tips and essential supplements
To achieve her objectives, Justine follows a strict training regime and a tailor-made dietary program.
On the nutrition side, she includes protein at every meal, though her diet is still balanced: she also eats as many vegetables as she wants. In addition, she chooses protein-based snacks (hard-boiled eggs, for example). Justine also takes care to stay well hydrated by routinely drinking about 2 liters of water a day.
In terms of dietary supplements, Miss Fitness Universe relies on the benefits of a multivitamin (Daily 3®). She also has a drink with BCAAs while she's training. BCAAs, or branched-chain amino acids (leucine, isoleucine and valine), play a crucial role in muscle development, as they're metabolised directly by the muscles rather than by the liver.
Justine and nicotinamide mononucleotide(NMN)supplementation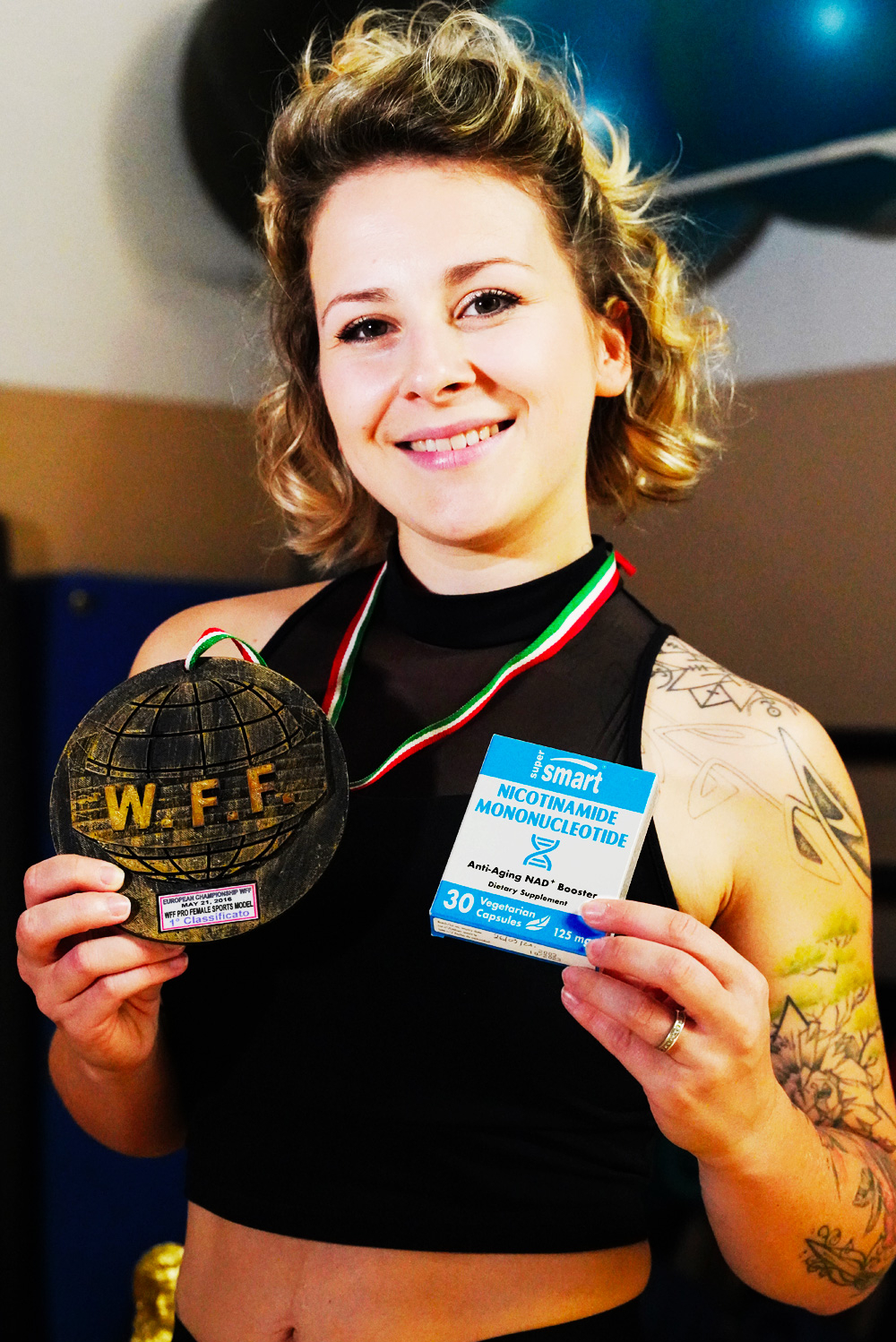 Justine recommends taking another important supplement called nicotinamide mononucleotide, more often abbreviated to NMN.
As you may know, this molecule is the most direct precursor of nicotinamide adenine dinucleotide (NAD), an important coenzyme present in our cells' energy stores.
As NAD production tends to fall with age, supplementing with NMN helps to naturally restore NAD levels in the body.
We can all benefit from the higher NAD levels produced by supplementing with NMN. Studies have examined the effects of taking NMN on physical activity. It is believed to work in particular on human aerobic capacity during physical training (via improved oxygen use in skeletal muscle (1-2). So amongst others, NMN is popular with athletes and active people in general.
But NMN has also been widely investigated by anti-aging researchers. Several such studies suggest it may act on inflammation of adipose tissue, insulin secretion, neuronal function and many other physiological functions that typically deteriorate as a result of the aging process (3-4).
Name: Nicotinamide Mononucleotide
Dose: for adults. Take 1 capsule a day. Each capsule contains 125mg of nicotinamide mononucleotide.
Contents: 30 vegetarian capsules.
(VIDEO) Why does Justine Gayraud recommend SuperSmart's NMN in particular?
(Transcription in English below the video)
"As a bodybuilder, I'm particularly careful about what I put into my body.
One of my favorite substances is nicotinamide mononucleotide. It's the precursor of NAD, a very important coenzyme found in mitochondria, the cells' energy factories.
So I take NMN to help raise my body's NAD levels, especially as production tends to fall over time.
The supplement Nicotinamide Mononucleotide from SuperSmart has a powerful dose, which makes it easier for it to cross the intestinal barrier: it provides the body with 125mg of NMN a day."