FREE delivery on orders over $25
Nutritional Supplements for Sports & Endurance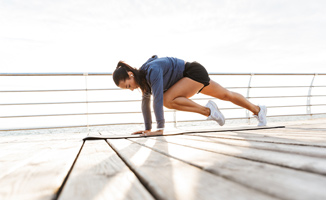 Do you like to exercise intensively? Are you keen to find natural, exceptional products that can increase your performance, improve your muscle recovery and stimulate your energy metabolism? Well, you're in the right place. Supersmart offers a choice of the best sports and exercise supplements available.
Drawing on recent scientific research, they are formulated using superior natural ingredients and the most innovative substances. They confer a variety of effects: they increase protein synthesis, stimulate energy metabolism, relieve muscle pain, boost ATP levels, promote muscle relaxation and encourage weight loss …
Be sure to take a look at Ursolic Acid, an extract of Japanese loquat leaves for building muscle mass, Cordyceps Cs-4, an exceptional mushroom extract for boosting performance, and L-Glutamine, a glutamine supplement for supporting post-exercise recovery. These are the most popular products with our customers in this category.
Get the best sports nutrition products at Supersmart
At Supersmart, you can find some of the best sports nutrition supplements available, including supplements for endurance among other sports nutrition products. We can help make sure you maintain optimum health and strength, with a wide selection of supplements to choose from such as Taurine, Tendo-Fix, Muscle Relaxing Formula, and L-Glutamine. Regardless of what you're looking for when shopping with us, we have what you need.
If you would like help finding any of our sports nutrition supplements or other products, simply contact us today and we'll provide additional information about any of the items we carry.
© 1997-2023 Fondation pour le Libre Choix. All rights reserved
© 1997-2023 Fondation pour le Libre Choix. All rights reserved

x


ok