Chanca piedra: the 'stone-breaker' plant
Any mention of a kidney detox must surely include Phyllanthus niruri, also known as chanca piedra or stonebreaker, such is the apparent power of this natural remedy.
A shrub from the genus Phyllanthaceae, used across the world in ethnomedicine (in Ayurvedic, Chinese and Malaysian medicine), chanca piedra is a natural remedy with kidney and liver health benefits supported by numerous studies (1).
A 2016 meta-analysis concluded that extracts of Phyllanthus niruri have particular properties which are anti-urolithiatic (anti-kidney stones) and anti-hyperuricemic (anti-excess uric acid, which may be related to renal under-excretion) (2).
The plant is believed to encourage the elimination via urine of magnesium and potassium, which may produce a significant reduction in urinary oxalates and uric acid. Further studies are needed to confirm this data.
Horsetail: potentially one of the best natural kidney-cleansing remedies
A genuine living fossil, horsetail, or Equisetum arvense to give it its botanical name, has existed for over 250 million years and has been used medicinally in Europe for millennia (3).
Indeed, the European Medicines Agency recognizes its traditional use as an adjunct treatment for minor urinary problems (4).
Horsetail is rich in silicon, flavonoids (especially quercitol), saponins and nicotine. It's thought to have a diuretic action, offering potential benefits for cleansing the kidneys as part of a detox strategy, especially when combined with significant hydration.
Dandelion: a plant associated with detox and kidney health
Also referred to as lion's tooth, dog's lettuce, and mole salad, as well as by its botanical name Taxacum officinale, dandelion is known in French as 'pissenlit' meaning 'wet the bed'. Given its potential diuretic effects, it is thus one of the most aptly-named traditional European medicinal plants (5)!
Rich in flavonoids, potassium salts, taraxacin, sterols, coumarins and inulin, dandelion is thought to increase urine volume and help flush out the urinary tract, which may thus prevent bacteria from adhering to it (hence its traditional use for treating urinary infections) as well as facilitate effective elimination of calcium, oxalates, uric acid, etc. (hence its traditional use for combatting kidney stones) (6).
Traditionally, dandelion is therefore one of the best natural remedies for cleansing the kidneys.
Noni: the exotic fruit that's good for your kidneys
Used medicinally for thousands of years in Polynesia, noni, or Morinda citrifolia, has enjoyed unprecedented popularity in Europe and the US in recent decades. Some even consider it a panacea, capable of treating multiple ailments (7).
While further research is needed to confirm this exotic fruit's benefits, several studies already suggest that the high content of noni juice in alkaloids, flavonoids, phenols, phytosterols, saponins, sterols, silicic acid, tannins and triterpenoids gives it diuretic kidney-cleansing benefits, comparable to horsetail (8).
A synergistic and effective formulation for cleansing the kidneys
Some synergistic formulations make it possible to combine a number of traditional, natural, kidney-cleansing plants: one such product is Kidney Detox Formula.
This supplement contains chanca piedra, horsetail, dandelion and noni, as well as magnesium glycinate and pyridoxal-5-phosphate. A daily dose of 4 capsules of Kidney Detox Formula can thus be an excellent detox aid alongside a healthy, balanced diet and adequate hydration.
SUPERSMART ADVICE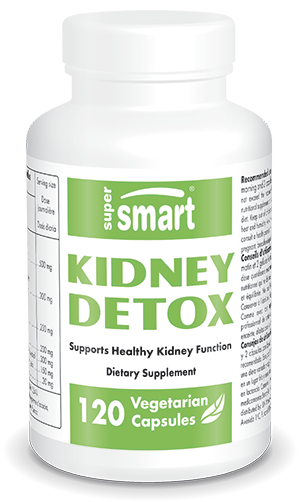 Kidney Detox
Kidney Detox is formulated to support overall kidney health and prevent the formation of kidney stones
$34.00

No reviews