Who is Benjamin Toniutti?
Benjamin Toniutti is a champion volleyball player born in in 1989 in Mulhouse, France.
He won the World League in 2015 and 2017, and the European championship in 2015, as a member of the men's national volleyball team of France.
As team captain, he brought home the gold medal from the 2020 Tokyo Olympic Games. Benjamin Toniutti also plays for the major Polish volleyball team Jastrzebski Węgiel .
The volleyball champion's top 3 supplements
Let's delve a little deeper into the world of Benjamin Toniutti, by taking a look at his personal nutrition tips.
This top athlete tells us he eats a very varied diet including plenty of fruits and vegetables, and a range of snacks such as Greek yogurt with cereal.
In terms of dietary supplements, Benjamin takes vitamins at the beginning of the day. After his practice session, he takes magnesium and BCAA, and finally, following strength-training, he supplements with proteins.
This year (2021), SuperSmart has been sponsoring Benjamin Toniutti. These are his top 3 SuperSmart supplements: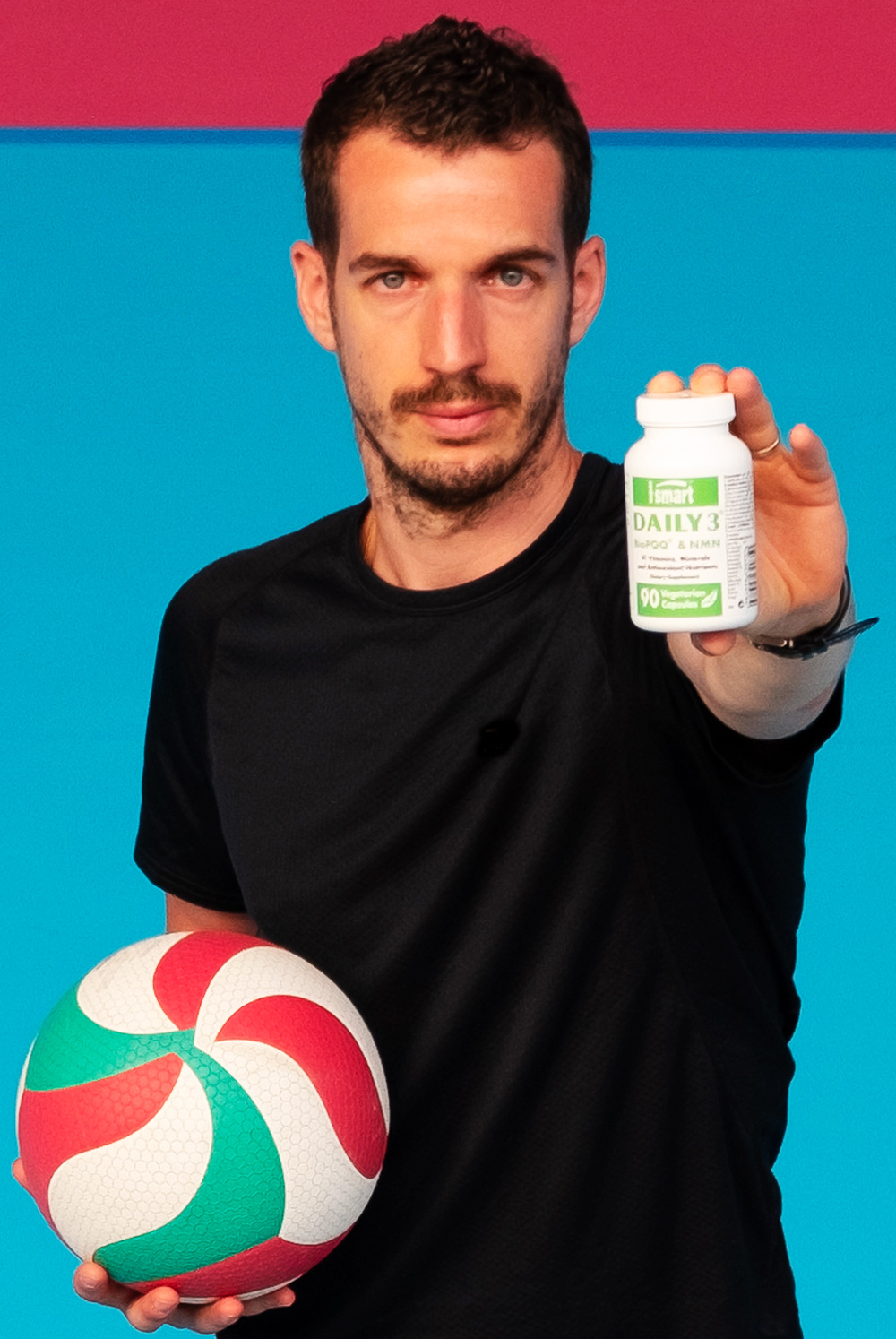 The multivitamin Daily 3®
For Benjamin, there's no substitute for a balanced diet combined with a multivitamin for maintaining peak condition.
He especially values the benefits provided by SuperSmart's Daily 3® multivitamin which not only contains a large number of vitamins and minerals in highly bioavailable forms, but also PQQ and key phytonutrients such as lutein, anthocyanins and quercetin (1).
It provides a real boost to sports performance and daily life alike ...
Name: Daily 3®
Dose: adults. Take 3 vegetarian capsules of Daily 3® a day, one with each main meal.
Contents: 90 vegetarian capsules.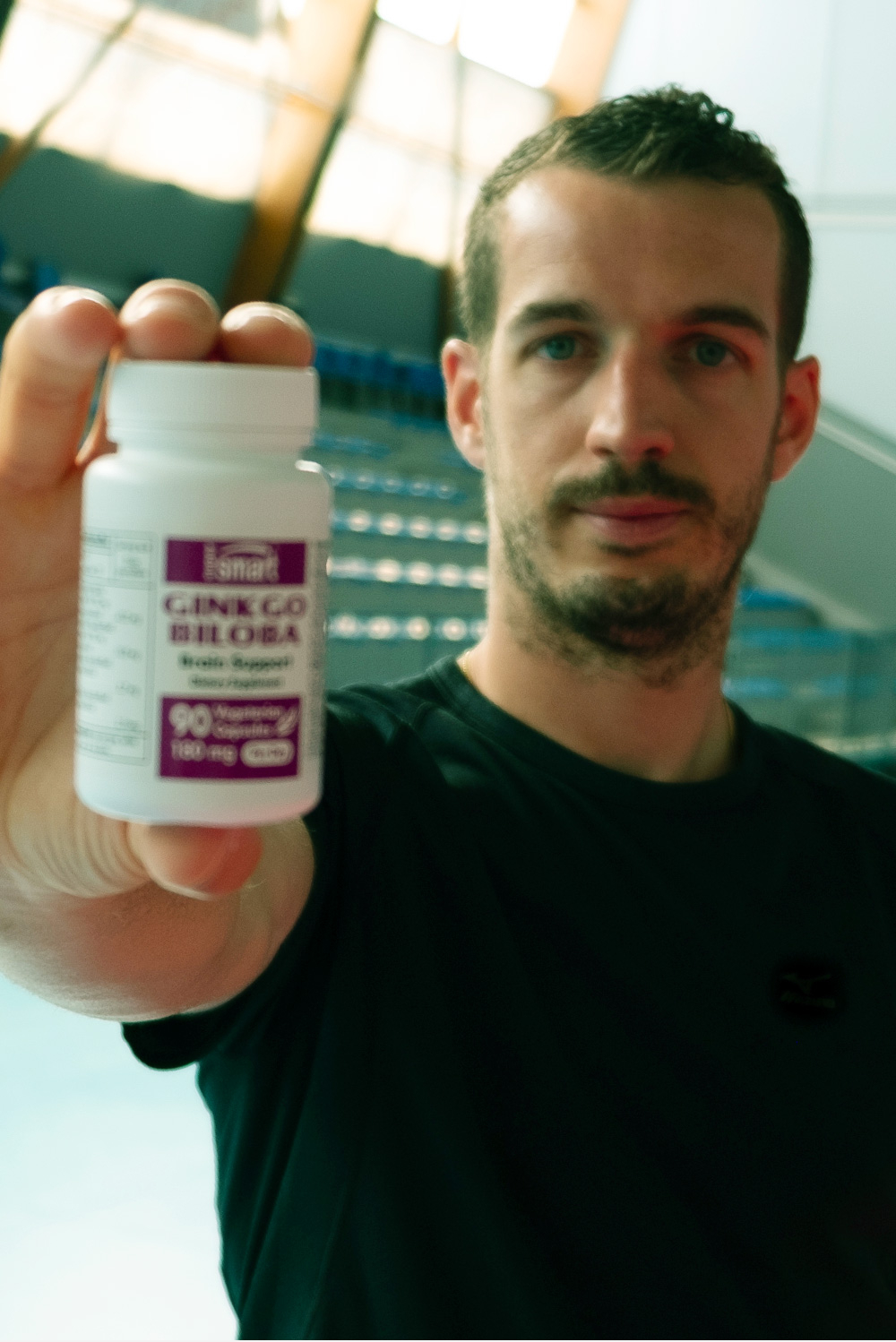 Ginkgo biloba extract to improve reactivity
Sport doesn't just require physical strength, it involves a high degree of precision too.
Gingko biloba, one of the oldest species of tree on the planet, is known for helping to support peripheral circulation and thus cerebral performance and responsiveness (2). Perfect then, when it comes to reacting to a quarter-turn, making winning smashes and generally being more alert in daily life.
The advantage of SuperSmart's Ginkgo biloba extract is that it's standardized to 24% ginkgo flavonglycosides and 6% terpene lactones (ginkgolides A, B and C, bilobalides) thus delivering maximum benefit from the plant.
Name: Ginkgo biloba
Dose: adults. Take 2-3 capsules a day with meals.
Contents:90 vegetarian capsules.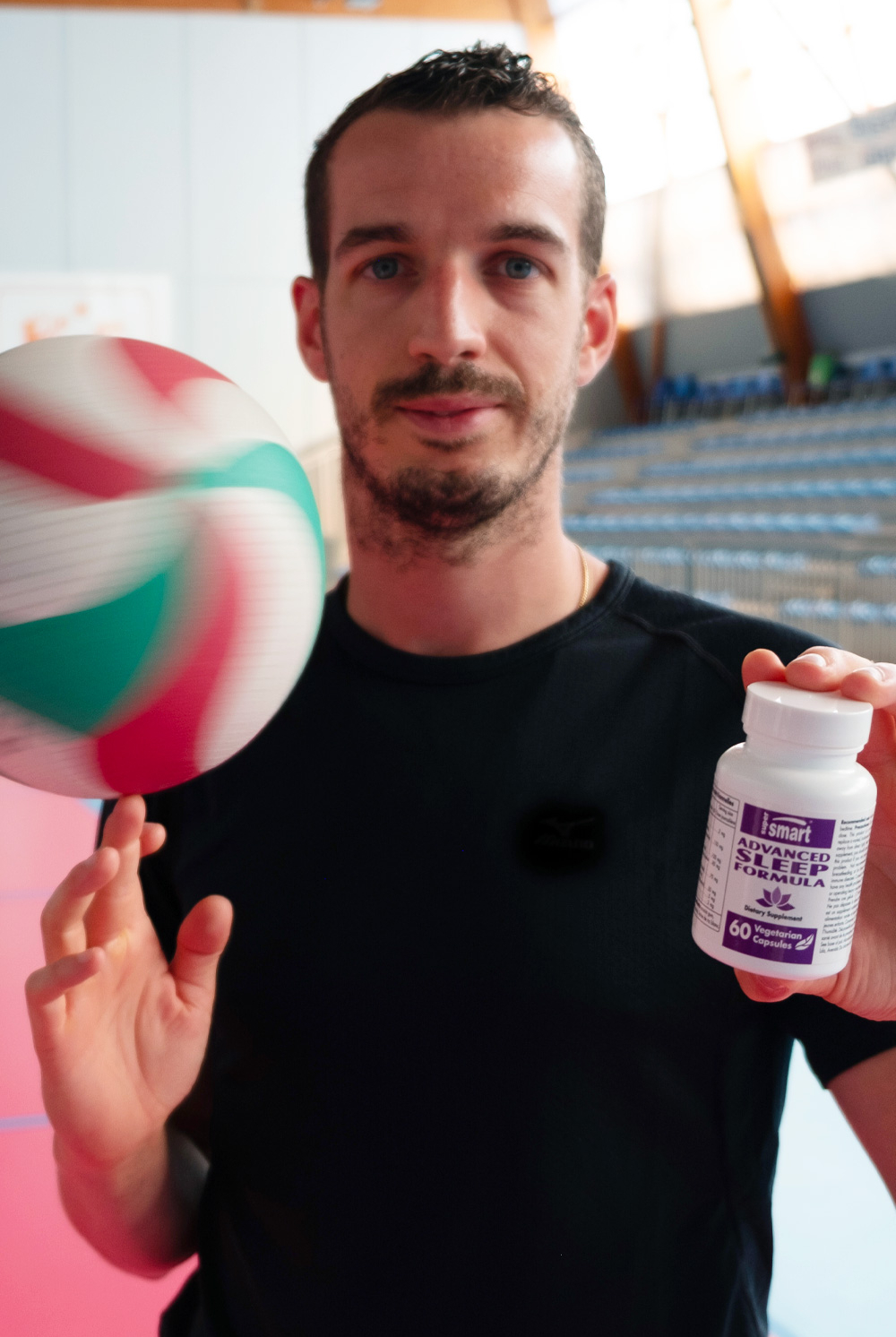 Advanced Sleep Formula before bed
Sleeping well is crucial, especially for sportspeople.
Benjamin Toniutti knows how effective certain natural substances can be for promoting a good night's sleep: valerian, hawthorn, passiflora, hop, Californian poppy (3)... without forgetting, of course, the role played by melatonin, also known as the 'sleep hormone' (4).
SuperSmart has brought all these compounds together in a single formulation called Advanced Sleep Formula. Just the job for drifting off peacefully into the land of dreams, the night before a big competition.
Name: Advanced Sleep Formula
Dose: adults. Take one capsule 30 minutes before bed.
Contents: 60 vegetarian capsules.
(VIDEO) Benjamin talks about the multivitamin Daily 3®
(Written transcription below the video)
Benjamin Toniutti (Olympic volleyball champion) :
"When you're involved in sport at an elite level, nutrition plays a really important role.
To help me stay fit and healthy, I take the multivitamin Daily 3® from SuperSmart.
This super-comprehensive formulation provides exactly what my body needs.
As well as a high content of vitamins and minerals, Daily 3® offers a number of key phytonutrients. What's also different about Daily 3® is that it contains PQQ, a powerful compound you don't often find in multivitamin supplements.
Everything I need, in fact, to be fully prepared for the Olympic Games in Tokyo!
Since I started taking Daily 3®, I find I'm fulfilllling my potential even more, both on the court and in my daily life."