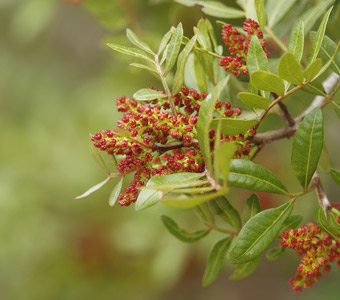 Mastic Gum 500 mg 60 vegicaps
You might think that no organism living in the human stomach could withstand the combined, brutal chemical assault of hydrochloric acid and digestive enzymes. Yet some exceptionally tough micro-organisms can survive and even multiply in such a hostile environment.
Among the most prevalent is the bacteria Helicobacter pylori (h.pylori) which is believed to infect the stomachs of up to 40% of the world's population. As its name suggests, H.pylori is a helicoidal-type bacteria which burrows like a corkscrew in the epithelial cells close to the pylorus. It survives by secreting urease, an alkalinizing enzyme which neutralizes stomach acids.
H.pylori infection is associated with gastritis, dyspepsia and peptic ulcers - in fact, it is now recognized as the cause of the latter. Standard treatment to eliminate H.pylori involves long and extensive multi-therapy with antibiotics and other drugs. The side-effects of this treatment (nausea, diarrhoea and allergies) can be hard to tolerate. What's more, the bacteria mutate and become resistant to the antibiotics. However, there is a natural product which has been used since ancient times as an antiseptic and remedy for a range of stomach ailments: mastic gum (pistacia lentiscus).
Several clinical studies have shown that mastic inhibits or eliminates H.pylori as well as other bacteria and fungal infections (Huwez FU, Thirlwell D, Cockayne A, Ala'Aldeen DAA. Mastic gum kills Helicobacter pylori. New England Journal of Medicine 1998;339(26):1946). Mastic gum is a safe, effective and natural nutritional supplement, free from side-effects.
Given how serious H.pylori infection is, mastic gum should be used as a first step, before any other therapy. Once H.pylori has been controlled or eliminated, gastrointestinal function will return to normal by itself and will restore stomach epithelium naturally. Studies demonstrating the efficacy of mastic gum against H.pylori used doses from one to two grams a day. Even if H.pylori is not suspected, mastic gum can be used to ease stomach aches, help re-form stomach and duodenal epithelium, promote good digestion and freshen the breath.
Composition
Daily serving: 4 capsules
Number of servings per bottle : 15

Quantity
per serving

Mastic resin standardised to provide 35% masticonic acids
2 g
Other ingredients: Acacia gum, rice bran.
Each vegetarian capsule of Mastic Gum contains 500 mg mastic resin.
Directions for use
Recommended use: Take two to four capsules a day as required, or as advised by your therapist.